Haus is a Swedish digital consultancy firm that helps companies with technological solutions. One of these innovations is the integration of electronic identities. And recently, haus has been able to help the Swedish company Vafabmiljö with the implementation of Swedish BankID.
Vafabmiljö is an association that coordinates and organizes responsible and environmental garbage collection in Sweden for a regional area consisting of 340,000 residents and 10,000 companies.
Through Criipto, haus has enabled the users of Vafabmiljö to log in with their personal BankID to ensure the most user-friendly login experience possible.
The challenge
Several companies that haus work with are demanding authentication or digital signature solutions through eIDs. To be able to deliver this, haus had to find an efficient and cost effective way to help their customers integrate eIDs into their systems. And when Vafabmiljö needed Swedish BankID for user authentication, haus made contact with Criipto.
Vafabmiljö wanted to provide a login flow that was secure, trustworthy and simple for their users. They also wanted to improve the user experience and modernize the way people managed their own recycling and garbage collection. Therefore, they looked at Swedish BankID as a solution. According to CTO Jonas Landgård, BankID is widely used and is the preferred method of login in Sweden:
"Everyone knows what BankID is, feels comfortable using it and it is the best option to create a trusted, secure and user-friendly login experience."


The solution
In order to deliver Swedish BankID to Vafabmiljö, haus partnered up with Criipto. Through Criipto's developer-friendly integration, technical documentation and helpful support, haus could easily implement BankID with QR code for Vafabmiljö with limited friction.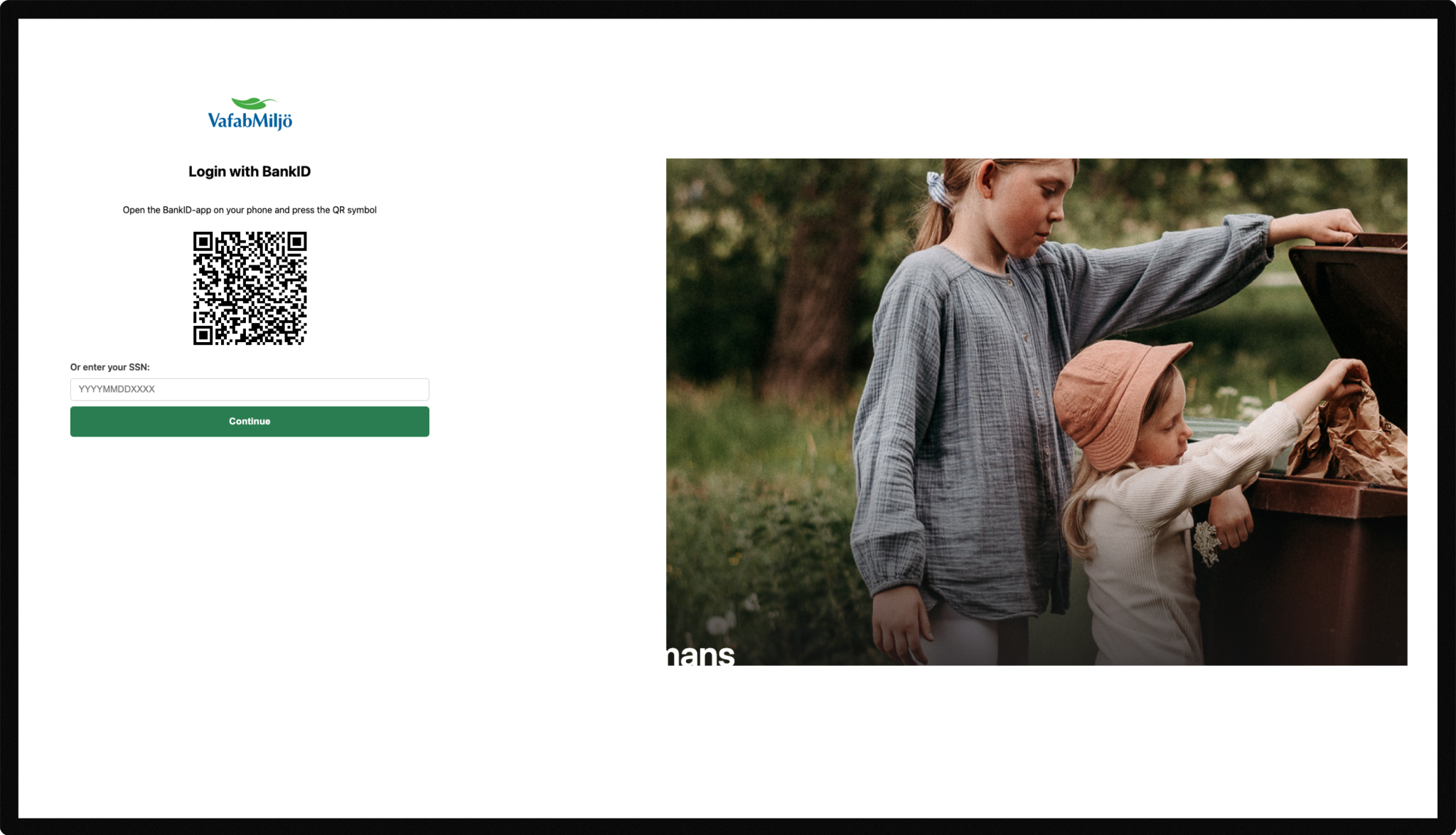 Vafabmiljö's login experience with Swedish BankID and QR code.
The technology
Haus integrated Swedish BankID through Criipto Verify using React and .NET.
Criipto offers an SDK for React and easy integration in .NET via OpenID Connect.
The result
After the integration with Criipto, the users of Vafabmiljö have been able to smoothly log in with BankID to efficiently manage their personal recycling and garbage collection. Currently, haus has only provided Vafabmiljö with authentication for Swedish BankID but is planning on integrating digital signatures in the future.
Additionally, haus is working together with several companies across Scandinavia that require both eID authentication and digital signatures. Since Criipto provides multiple eIDs, Jonas mentions that it's easy to integrate Norwegian BankID and Danish MitID for future customers:
"Integrating eIDs across borders with Criipto is very straight-forward. Through the same platform, we can easily provide eIDs to our customers in Sweden, Denmark and Norway."
Learn more about our customers
Criipto provides secure and efficient digital identity solutions for more than 400 businesses.
Read about our customers and learn and how companies and organizations from several different industries use Criipto for eID authentication or digital signatures.